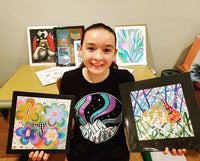 Fun for Kids of Any Age
Whether you're looking for a box with several projects or just a couple projects to sharpen up some skills, we've got you covered. Check out our selection of AMAZING art classes inspired by famous artists!
Shop Now
Only 2 MONTHS LEFT of our Monthly art boxes!
DON'T JUST TAKE OUR WORD FOR IT...
"These projects and your instructions took her to a whole new level."
"I have recommended the course to several friends!"
"He looks forward to his after-school club with you every week!"